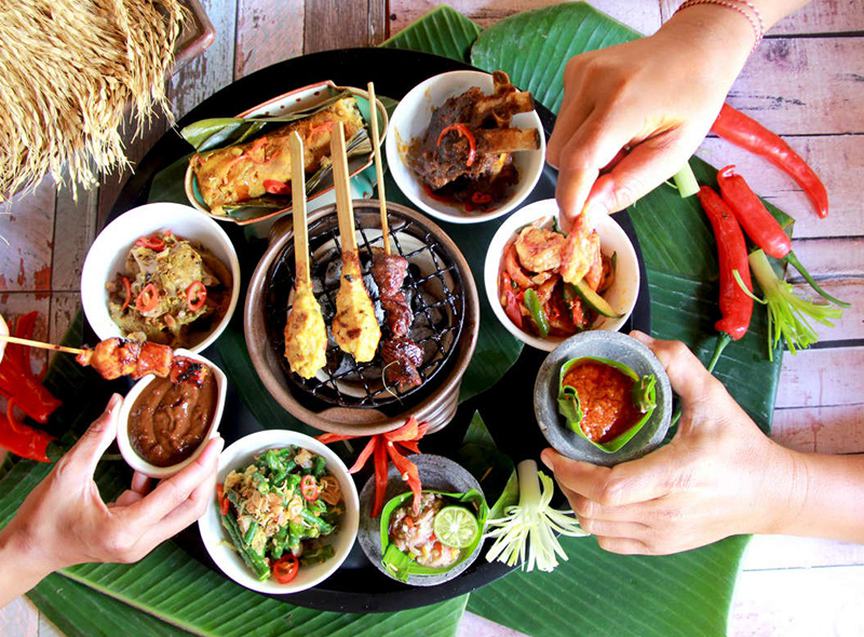 Some of the guests cook on their own at home. Others prefer to go to a cafe or restaurant. But some people don't want to go out, don't know how or don't want to cook,but want to try local cuisine at the villa. To do this, you can invite a private chef. You can confine yourself to standard breakfasts, lunches, which will be the same for everyone.
In the case when the European menu does not raise a large number of questions or you can ask guests about their preferences during the conversation, it is not so easy to make a choice with national dishes. We have prepared for you a selection of 10 most popular dishes of Indonesian cuisine so you can choose the taste of Bali for each of your guests individually.
1. Satay - Balinese shish kebab
The legendary street food, a variation of a shish kebab on skewers, mostly chicken, goat, beef or pork with national spices. In addition to classic option, you can also offer to your guests sate lilit - meat soaked in coconut milk and wrapped around skewers (not strung on them, as in the classic version of the dish). The vegetarian option for this dish is tofu, fried or baked in coconut milk.
2. Babi Guling - fried piglet
Babi Guling or Balinese fried milk pig is one of the national delicacies for a few people (3-4). The piglet is fried whole, because it's the only way it will be fried evenly. Often it served as a treat during cultural performances or ceremonies. Despite the fact (Even though) that the fresh meat of pig is succulent, the mixture of traditional spices also plays an important role in the taste.
3. Betutu - fried chicken or duck in a very unusual way

There is a legend that betutu was once a favorite dish of kings. Therefore, it is not surprising that food is prepared in such a complicated way. Whole chicken or duck is the main ingredient, which is filled with a complex mixture of spices, including shallots, garlic, ginger, chili, peanuts, etc. Betutu needs at least eight hours to prepare, most of which is reserved for baking.The taste certainly does not convey the efforts that are invested in it, but a long process gives a rich aroma to every piece eaten.
4. Lawar - meat mix or jackfruit dainty
Lawar is made from a mixture of minced meat with various green vegetables and grated coconut. As for meat, you can choose from beef, chicken, duck, pork, turtle, or a combination. Balinese people prepare two types of lawar: red and white. Red lawar takes its color from the blood of animals added to the mixture, which brings a certain taste to the whole dish. On the other hand, white lawar does not contain blood, and often, meat is replaced with jackfruit. Red lawar can be offered to lovers of the ultimate exotic dishes. while In contrast, white lawar can be offered to vegetarians in a variation without meat and children as it has a very delicate taste.
5. Nasi Tepeng - traditional breakfast
Soft rice is complemented by a special mixture of spices and herbs, which gives this dish an aromatic taste, and also comes with fried chicken, egg, jackfruit, beans and eggplant. In Gianyar, Nasi Tepeng is a regular breakfast for locals.
6. Tum - meat appetizer
The dish is prepared from minced chicken or beef, along with herbs and spices such as garlic, shallots, chilli, bay leaf, lemongrass. Tum is traditionally served wrapped in a banana leaf. The tum is popular as street food due to its compact texture.
7. Urab - warm vegetable salad
Urab is a traditional vegetable salad with coconut spices. It consists of a large amount of steamed or raw vegetables, including green beans, cabbage, bean sprouts, spinach and cassava leaves. You can enjoy it as a standalone dish or as a side dish.
8. Martabak - traditional tortilla
Fried pastry pie with delicious juicy filling. Most often, martabak is made in the form of a large tortilla, resembling a puff omelet. The filling can be various: eggs with onions, meat, vegetables. The sweet tooth should definitely try the sweet martabak. This is just a fantastic dessert with lots of chocolate, fruits, nuts, condensed milk and cinnamon spices.
9. Bubur injin - sweet rice in coconut milk
The most famous dessert is prepared on the basis of black glutinous rice cooked in coconut milk with cane sugar. Very often, black rice pudding is served with fried bananas, mangoes or other fruits. A great choice for breakfast or as a complement to the main meal.
10. Krupuk - Balinese chips
Appetizing crispy chips that can be prepared from flour (rice, bean, corn or some other), as well as on the basis of powdered dried seafood. Sometimes they are generously sprinkled with fragrant spices, but most often eaten in their pure form. Indonesians use this snack instead of bread.
An appetizer for alcoholic drinks, a hearty breakfast, a light dinner or a traditional dessert - you can always offer guests dishes that will make their stay in your villa unforgettable. Do not forget to clarify in advance information about possible allergic reactions of your guests to certain spices in order to warn the chef in advance.