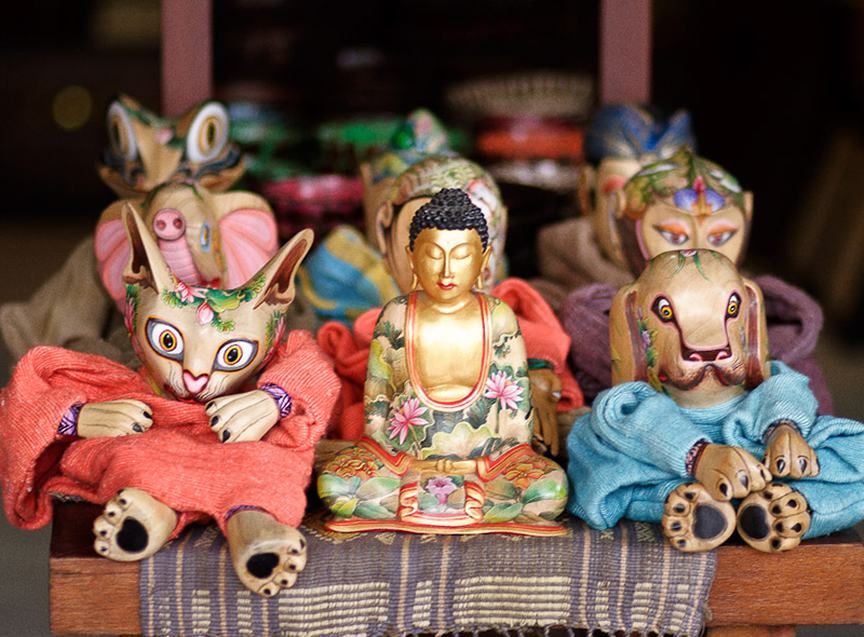 Many guests want to bring something as a souvenir or a gift for their friends and relatives. Very often, the choice becomes a problem, because a large assortment raises doubts about what is better to buy and which souvenir is traditional. You can make a set of souvenirs from the island in advance by adding exactly what really relates to the island and its culture.
In order to make a competent set of souvenirs, first of all, you need to understand the interests of your guests. You can find out their preferences, hobbies, demands during an individual conversation. We have compiled a list of the most popular souvenirs from Bali to help you understand their types. You can combine souvenirs to your taste or use our recommendations at the end of the article.
1. Ethnical wooden masks
Wooden masks portray various Hindu idols or mythical characters from legends. Balinese believe that masks can protect from black magic or evil spirits. Be careful from Chinese fake gifts! You can find the largest variety of locally made ethnic wooden masks near the village of Ubud.
2. Aroma oils
Due to the richness of nature, Bali is famous for the qualities of its aromatic oils, which are used for incense and for cosmetic purposes. Basically, you can find sandalwood, jasmine, lotus and cinnamon oils, which can be bought for a small (an affordable price) price, but of excellent quality. Oils can be aromatic, massage and skin care. Women will like oils for skincare. and couples may be happy with massage oils. Aromatic oils are more neutral, but it will not be superfluous to ask guests about their preferences.
3. Wayang dolls
An important part of Balinese culture is the shadow theater. The Balinese shadow theater dolls look very unusual - they are flat and made of leather. Dolls are usually painted in five primary colors, sometimes with gilding. Such a doll will be an excellent gift for both an adult and a child who will be glad to see the performance after return of his parents or relatives from the trip.
4. National cosmetics and pharmaceutical ointments
The main feature of Balinese cosmetics is the high content of natural oils, which provide a tart aroma and natural ingredients. Women will be happy with Ayurvedic creams and hair products, and the older generation is going to be pleased with articular ointments and the famous "Tiger Balm", a Balinese analogue of vietnamese "Star Balm".
5. Batik
Balinese batik - fabric with amazing, unique patterns that are applied by hand. The artists of this island have a special technique of craftsmanship, which makes their work special and original. A practical and bright souvenir made from batik will be a sarong. Balinese traditional clothing is suitable for walking along the beach or visiting religious places. Tourists use a sarong instead of a beach blanket or as a plaid. It is also worth paying attention to neck scarves from batik if the sarong seems to you an overly authentic gift.
6. Indonesian coffee
Indonesia is a real paradise for coffee lovers. Two types of coffee are grown in Bali - Arabica and Robusta. The first type is distinguished by a more refined taste, without tangible bitterness. Robusta contains more caffeine, due to which it is very invigorating, but there is bitterness in the taste. To some, robusta seems too rude to taste. Usually it is mixed with arabica. The most expensive coffee in Bali is "Save Luwak". The grains of this coffee undergo fermentation in the stomachs of animals - palm martens, after which the grains are fried. The taste of Luwak coffee is soft and chocolate. You can offer guests a small package of beans for tasting, but you will be sure that they cannot find such coffee in any country.
7. National alcohol
If your guests are interested in national alcohol, you can offer them following types of drinks: arak - a strong alcoholic drink based on rice and coconut palm juice (around 40 degrees). Tuvak palm drink is lighter, balinese drink it like a beer. The rice tuvak is slightly stronger - up to 15 degrees. It is preferable not to buy alcohol at the street market. In addition to these kinds of souvenirs, which can be called the most popular souvenirs in Bali, there are a lot of small gifts that can be purchased for a large number of colleagues or friends: croaking wooden frogs, key rings and magnets depicting Hindu gods and surfboards, mini-rollers with aroma oils will be a pleasant trifle as a gift.
In our opinion, neutral gift sets contain the following souvenirs:
- Ethnical wooden mask
- Set of aroma oil (3 sorts)
- 5-6 wooden figurines / magnets / key rings
- 2-3 coffee packs
A set of gifts for female relatives and friends may look like this:
- 2-3 skin care oils
- 2-3 natural creams
- 3-4 batik neck scarves
- 4-5 mini-rollers with aroma oils
A set of gifts for men colleagues and friends we see in this way:
- 3-4 coffee packs
- 3-4 small bottles of arak or tuvak
- 5-6 wooden magnets / key rings
You can follow our recommendations or collect souvenir sets according to your ideas, we wish you a fascinating pastime in the souvenir markets of Bali with a wide selection for every taste.