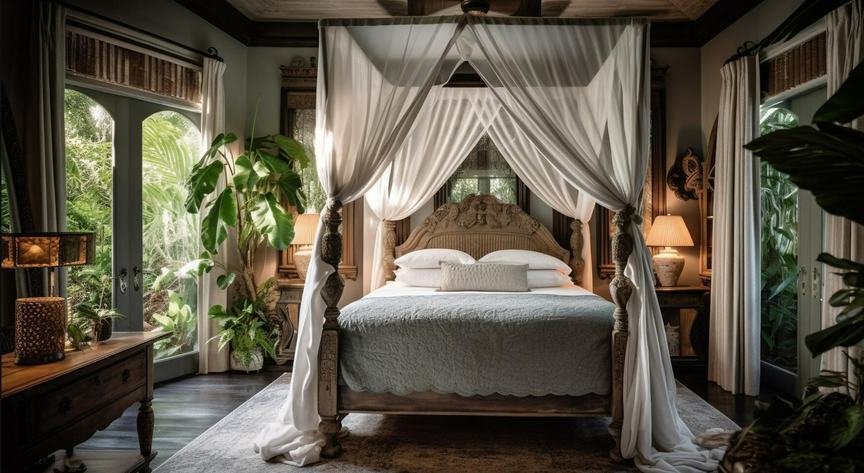 If a bedroom is considered and smartly decorated, often it can get the highest rank from guests, because this space gives them real comfort and pure satisfaction.
Let's see, what exactly can make your rental bedroom a real peaceful place for mind and body recharge.

Actually, beds themselves
The first and the most crucial key for bedrooms is, certainly beds.
The size concerns not only the choice for adults or children, but also means the full match with mattresses and bed frames. Remember, that large beds don't look harmonious in a small bedroom and vice versa.
Choose the waterproof mattress pads as a good protection and comfort option for your guests. You can easily detach, clean and replace them.
Consider accurately the number of sleeping places, including adults and children, providing for small guests cribs, pack-and-play beds or even bunk beds.
Including permanently additional beds greatly improves the occupancy of your property, eliminating the guests' need to make special requests during their stay.

Linens and bedding
We recommend everyone to include these elements for best bedroom's preparing:
Two sets of sheets for every bed (one of the optimal choice is a hypoallergenic cotton-polyester blend ones)
A comfortable durable duvet with a detachable cover (check if both a duvet and cover are machine-washable!)
Two bed pillows allocated for each guest: the firm and the soft one.
A large throw blanket for chilly nights to cover feets or the entire bed, providing an extra layer of warmth.
It is also important to keep additional blankets, linens, and pillows in the house.
Take note: ensure that the bedrooms and bed linens (especially the pillows and blankets) are treated to prevent bed bugs!

Additional must-haves for best comfort
For the highest comfort you can add next elements:
Dressers and closets with hangers for personal things and clothes. Investing in a wardrobe with hanging space could be a worthwhile option.
Bedside tables and lamps (for cozy reading time, glasses and other things)
A clock with silent mechanisms without bright glowing.
The near bedside outlets for charging phones and other gadgets.
The TV as well can be enjoyed by some guests. The ones who don't watch TV, can just ignore it.

Following our recommendations will help you to smartly organize a perfect restorative place for guests.
If you need more information or any assistance with the property management processes, feel free to contact us! We are 24/7 here to help you with all property questions.