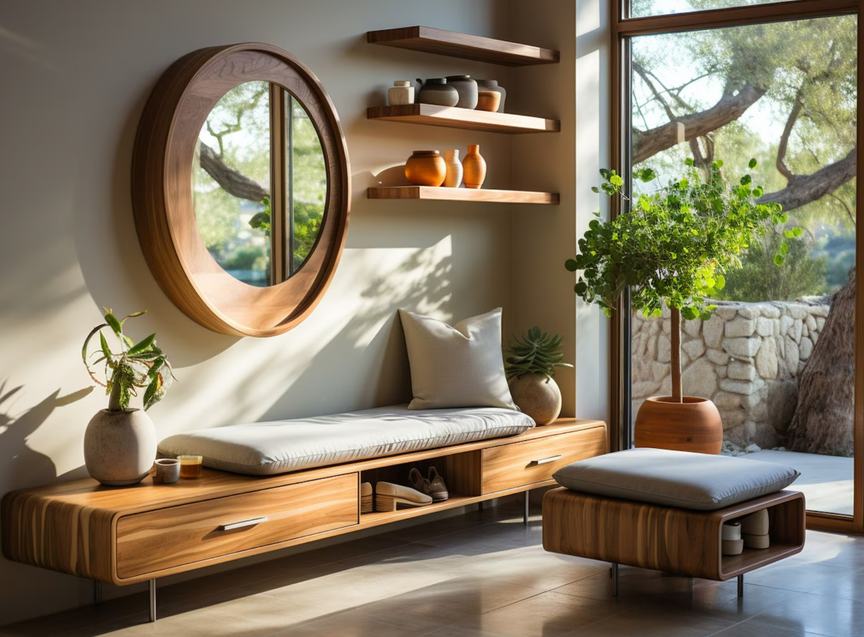 To avoid guests' annoyance, owners should thoroughly consider every corner of their property. And the hallway area is no exception.
Our simple tips will help you to furnish the entrance hall and win the first guests' impressions.

The basic essentials
Placing these items in your entrance hall you create not only cozy, but practically useful space.
Equip your space with hooks and a small table to keep keys or other small essentials (sunglasses, sunscreen, bags) in order and in sight.
Placing an open coat closet or rack near the entrance door gives the opportunity to hang wet or dirty clothes from a threshold.
Waterproof storage and rubber and sand floor mats are critical. Your entrance hall will remain water damage-free with them.
Nobody wants to sit in a puddle to remove rain boots. Providing a chair or two prevents guests from walking through your living room in search of seating to remove their wet shoes.
People perceive the well-lit space as a homey and cozy place. So an easily accessible light switch and smartly considered highlighting is essential.
Take note: it would be preferable to have a water container or a summer shower installed before the house entrance for cleaning sand off your feet after a beach or a walk.
Remember, that if your area focuses on fishing, outdoor activities, or nightlife, adjust your entrance hall to accommodate guests' needs by anticipating the most pressing requirements.

Small space ideas for entryways
If your entrance space isn't large and you wish to make it visually bigger, try to play with the next design ideas:
To separate some entryway zones and to create a sense of distinction without using any floor space, use accent walls.
Adding rugs is another one idea for creating a visual separation. A smartly placed rug gives the impression of moving from one room to another.
A mirror is an excellent solution for creating the illusion of space in smaller areas. It also serves a dual purpose by providing a convenient spot for individuals to check their appearance before they step out.
Add finishing touches to your entryway with artwork, plants, or framed photos to enhance its welcoming ambiance.
You can create a perfect entryway with any available space by utilizing a suitable layout and design concept.

For more useful info read other additional articles on our blog. And if you need any assistance with the property management, feel free to contact us. We are always ready to help you with all rental business questions.