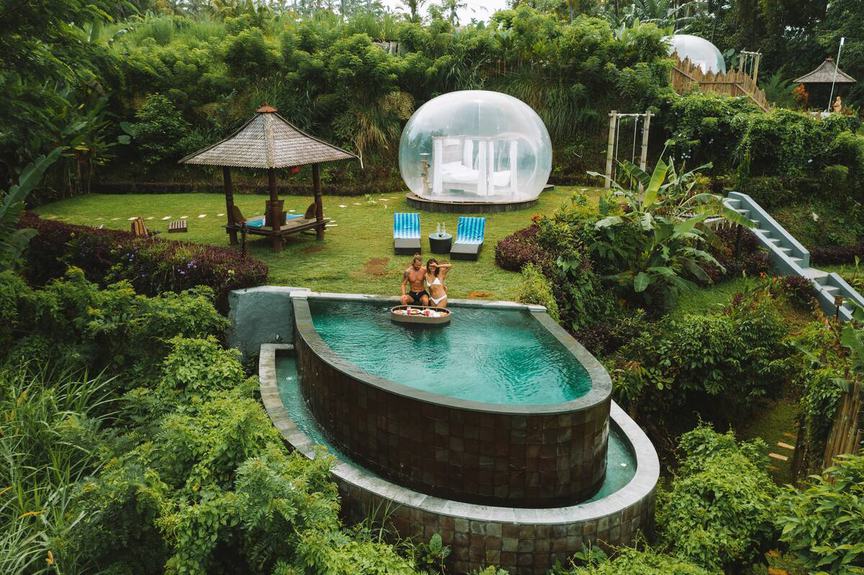 To manage the property is an art. And there's always a place for creativity. As host you can be original in your hospitality services or you can reveal yourself as an artistic owner, making your property the piece of art itself.

Here we'd like to present to you one of the exclusive villas' ideas.

Bubble Hotel Bali
The hotel includes 3 locations with its bubble villas. They were made for an unforgettable romantic couple's experience, to provide them with a possibility to have a great getaway from the city rush and hustle and to give them an opportunity to reconnect with the inner child in the pristine nature.

The peculiarity of the Bubble villas is in their simplicity and an airy design, surrounded by the wildlife. The bubbles are made of a translucent transparent plastic material and look stunning. The unique design allows guests to have the complete room in the minimalism style with light curtains and a bed.

Not far from every bubble there is an open shower and a restroom, hidden in the jungle bushes, covered with bamboo screens. There are all the necessary amenities: from simple charges to air conditioners.

The owner has taken care of many additional options too, such as: candles, BBQ, tone of games for two, the telescope for great starry nights, flowers, dinners, hookah, transfer services and others — all couples can wish for.

The magic is in the air: guests feel covered with love and the magnificent place in the private area — the wildlife, the ocean, starry nights — all is made for the ideal time, spent for two.

What to take note of this
The owner of Bubble villa focused on romantic atmosphere and chose as the target audience couples, taking into account a magnificent natural territory as a main key for this project: the wildlife area around, the ocean, a perfect viewing angle for the starry nights.

If your property is also placed in a picturesque area, among the charming nature and near the natural water source, you can create your villa so that the scenery could become a part of your rental offer. If you don't want to focus only on just married couples, you can additionally choose the eco-friendly vacation type of guests. In this case also think about the ecological furniture and materials, and don't forget about different eco-friendly hygiene products.
As we can see, to bring the exclusivity to your property — means not only dearness, but also, as owner, to be adventurous and bold to stay yourself. And if you need any help with the property management or its marketing strategy, contact us, please! We will be happy to help you with all property processes.