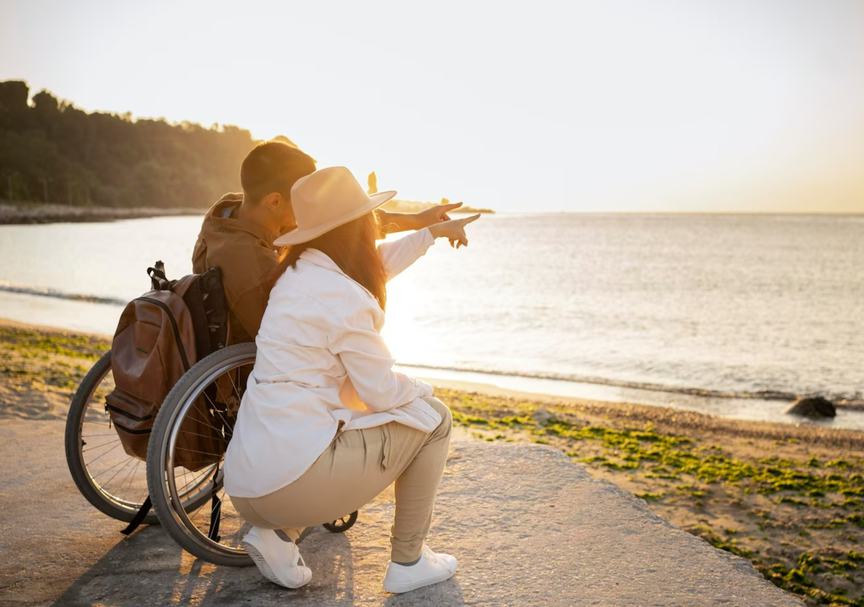 Before offering your place for booking as property appropriate for people with disabilities, it is very important to take several factors into consideration.
There are a lot of things that help the handicapped to live a normal life. There's a list of some of them below.

A disability-friendly entrance
Install a ramp at the doorstep and widening the doorframe (90cm wide minimum). Automatically opened doors may also give your guests more comfort.

Wheelchair accessible stairs
Think about installing a stairlift or an elevator. A ramp access to the balcony and the garden or any other outside spaces would be also useful.

Bathrooms and toilet rooms
Provide higher-level toilets or toilets with grab rails. Bathrooms must have 150 cm minimum circulation space inside to let guests on wheelchairs turn around.

Accessible special parking space
It also must be built with a ramp or lift. Don't forget to mark the most comfortable parking spaces as reserved for handicapped guests.

Make the height of your appliances and amenities (for example, fridge, microwave, countertops and cupboards) comfortable for all types of guests.

Sockets and light switches
Place all these things at a proper height for guests with special health conditions for easy access and convenience.

Provide your place with special vacuums and mops, designed for people with special needs, if they prefer to clean the space by themselves.

You can also think about applying:
Walking aids for the handicapped
Hearing aids for the deaf and voice recognition devices
Large displays and keyboard for the low vision individuals
Braille products and screen readers for the blind
Take some time to make sure that your property is a good fit for special guests and that staying in your place means being in safe hands.
Don't forget to mark your listings as disabled-friendly to easily find them.

If you need more info about the host's property preparation, read our professional blog. And if you don't have enough time for that, but need some help with the property management, contact us! We are always ready to help you with all property questions.