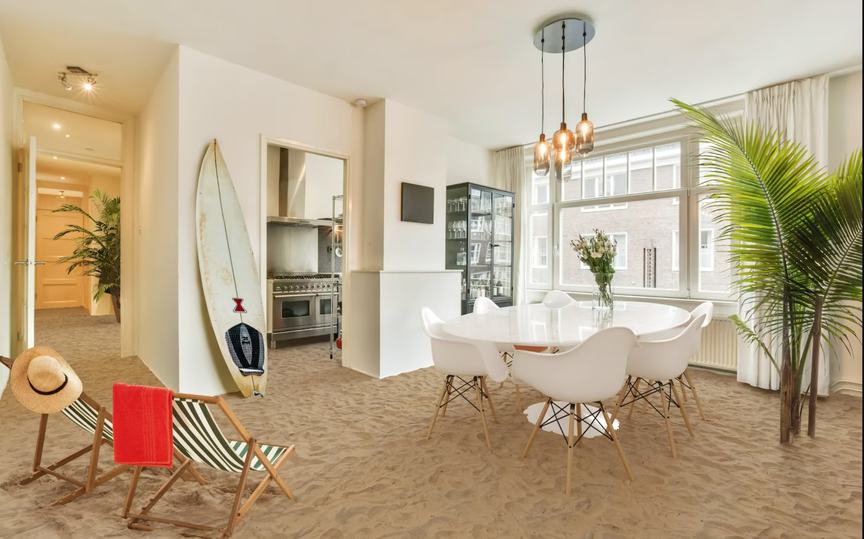 Follow our tips and provide all the interior needs to make your guests enjoy the space.

Opt for ageless color decisions and styles to add character to any room. Using light colors and modern decor is always a win, creating a calm and attractive design. For smaller spaces use a paint trick by using different shades of the same color to give the illusion of more space.

Adding warmth and coziness
Complement your interior with tactile elements such as fur chair covers, colorful woven cushions, or plush leather footrests to invite guests to feel comfortable. Add rugs in rooms. Invest in good quality bedding and towels, allowing for your guests to rest entirely and get a good sleep for optimal relaxation throughout guests' stay.

The elegant details must be both useful and applicable for necessary situations. Consider nice-looking things with reliable functionality and durability.

Consider the placement of furniture, artwork, and decor to create an inviting and comfortable atmosphere. Arrange seating furniture for easy eye contact and conversation to encourage interaction and engagement. Provide comfy seating and a surface for drinks. Don't forget to include a bedside table and lamp on both sides of the bed for couples.

Set the mood with varying warm light sources that can be dimmed to suit individual preferences. Use candles and lanterns.

The addition of house plants and fresh flowers can add extra warmth to the area, creating the ultimate relaxing environment. Greenery options can include hardy native plants or high-quality faux florals for low-maintenance upkeep.

Art forms an aesthetic background to any place. To be appreciated fully, artwork should be hung at eye level. When adorning a hallway, it is best to position artwork between five and six feet high, ensuring it is at eye level as you walk past it.

Place mirrors strategically to reflect the beauty of surroundings, including lush plants, magnificent artwork, or stunning chandeliers. A mirror positioned behind a kitchen bar or dining table is also an excellent way to enhance the area's aesthetic appeal.
Strive for high levels of customer satisfaction, and your rental property will be a successful and lucrative investment.

Need more info? Visit other additional articles on our blog.
And if you need any assistance with the property management, please, contact us! We are always ready to help you with all property questions.