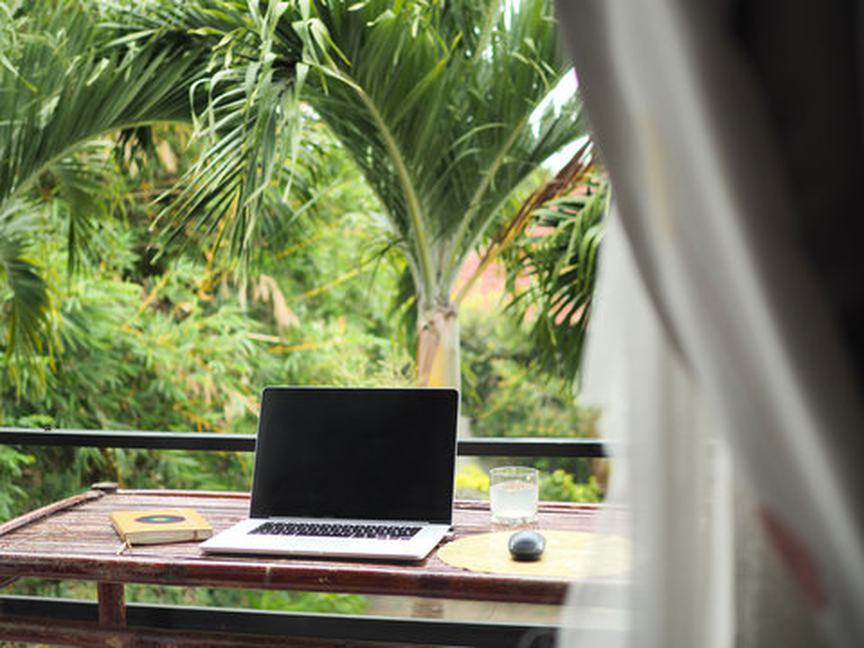 Every person from time to time needs to break-out to rest and break-up the monotony, living somewhere far from the usual place, especially people, who constantly work at home.

Freelancers also need vacation time. But commonly they don't stop working, even traveling. Receiving this type of guests, owners should focus on special place organization that will help freelancers keep doing what they plan to do.

Our seven tips will help to make freelancers' place at your home really comfy.

The most crucial need for remote work is a good internet speed at a vacation home for working. Good Internet means quality zoom calls, fast upload/download files and easy communication with remote colleagues.

To work in comfort, freelancers need a smartly equipped space around: a table, a chair with adequate lumbar support, good lighting, and many sockets for gadgets around the workspace. You may provide a multifunction printer. Stickers and whiteboard will be also a good thing.

The ideal workplace should be organized in a secluded home's corner to provide freelancers with a quiet, cozy atmosphere. In quietness it is easier to concentrate thoughts and work stably.

It's great if a person, working remotely, has the opportunity to cool off in the pool during the hot day in the yard, not spending much time going far somewhere.

One of the decisive values for freelancers, choosing a vacation home, may be a personal gym at home or its availability nearby. Remote workers often spend much time sitting, and home gym is a good possibility for quick workout and stretching to stay fit.

Shops and restaurants nearby
The presence of cafes and restaurants around the corner or a fast food delivery service is also one of the key elements for choosing your property.

Of course, that's not the top reason for freelancers' vacation home, but still it's a great advantage. If your property is located on picturesque territory (with an ocean or mountains nearby or natural greenery around) it can become a really meditative and peaceful place for quality rest.

Try to heed these simple tips to prepare your home for freelancers to make them feel comfortable at your place.

If you'd like to read more information about the host's preparations, visit our professional blog. And if you need any help with the property management, contact us! We are always ready to help you with all property questions.