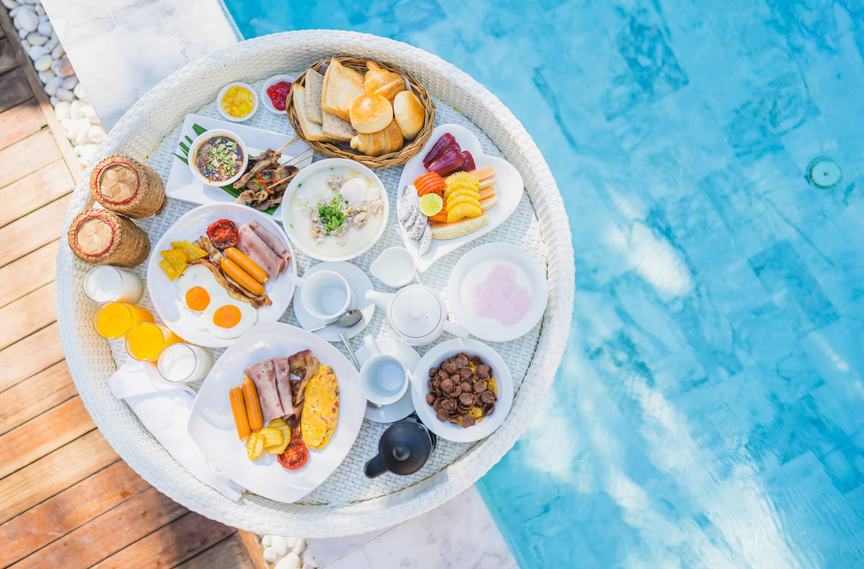 The meal is always one of the most essential questions for traveling people. And, as owner, you should make the choice for yourself: to allow guests to solve the breakfast point on their own or offer your own service.

Choosing the first item, you should supply your kitchen with all necessary things for cooking. You also can write a list of good restaurants and cafés nearby for your guests.
If you stop your choice on your own breakfast offer, then the tips below will help you to organize your service decently.

• Fresh food and quality drinks
Fresh products is the main key to the healthy eating. So the food should be as healthy and safe as it is nice to look at. Cook it preferably in the morning, before the very delivery. Also create a list of tea and coffee on hand to present it to guests. And remember: no matter what exactly preferred, oolong or double espresso — whatever your guests order, presented drinks should be of the excellent quality.

• Make it look good
Breakfasts should be inspiring, because they start our days. Take care of the dishes appearance, cleanliness and the way of serving guests' food. Invest in beautiful china set, bowls and quality utensils. Remember to decorate guests' meal with fresh garden flowers or
freshly pressed napkins.

• Guests' preferences
Local flavors, buffet or traditional protein food for breakfast — take an interest and learn your guests food preferences for breakfast and try to do the best serving the desired meal.

• Dishes' variety
Try to present a good dishes' and diets' variety for choice. Include in guests' breakfast offer all essential dietary intake elements: proteins, carbs and fats and offer not only main breakfast food (as porridge or eggs and bacon), but also vegetables and fruit, dairy and fresh bakery.

• Beauty in simplicity
The variety of dishes doesn't mean the high kitchen delicaces or other complex dishes. Provide freshly cooked, healthy and simple quality food, served nicely and pleasing to eyes — and all it will make a perfect way to start the day.
Need more info about the property management organization as owner? Please, read our professional blog, where you can find many useful tips and ideas for hosting.
And if you need any help with your property, contact us, and our management team is always ready to help you with all property management services and processes.