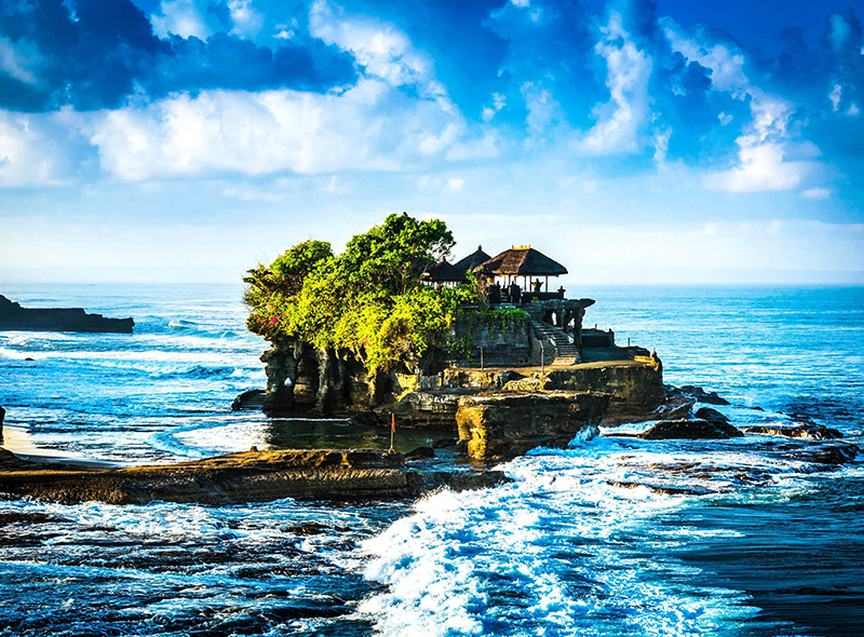 How often have you heard from your guests that they have long dreamed of getting to the paradise, exotic island - Bali?
Today we will figure out, if it is true that every second resident of the West makes a wish on his birthday: "I finally bought a ticket to Bali"?
What attracts tourists most of all to fly by two, and sometimes by three planes, for 18 hours?
Yes, the most important thing is - the Ocean. Bali reveals to guests a variety of beaches, wild and uninhabited, for those who like to take incredible photos and feel like they are on a desert island.
Noisy, popular beaches that are filled with the atmosphere of the reunion of all nationalities into one big piece of paradise. Here reigns the laughter of people who speak all languages​​of the world, the noise of naughty waves that surfers so stubbornly conquer until dark and, of course, incredible sunsets. You can describe them endlessly. Yes, some people fly to Bali to be the first, who see how the New Day begins on our planet.
The next passion of tourists - is to be close to nature, which is so lacking in our time. After all, when we are so diligently conquering megacities, setting new goals, chasing the eternally elusive "ideal life", we forget that we need to replenish our strength and energy. And to truly do this, you can only reunite with nature.
Yes, Western tourists want to try to live among the wild forest, which is inhabited by impudent monkeys, nimble lizards and even snakes. It intrigues, scares a little, but insanely attracts guests of an exotic island.
Local Balinese are always smiling and friendly - this is what visitors say about the Balinese people. Tourists are often interested in the customs and local rules of behavior of the Balinese in order to show respect, and even learn from the local people "relaxed lifestyle". By the way, it is impossible not to mention how delighted tourists are with Balinese temples and small Chanang sari, which women weave from coconut leaves and then bestow them for the Gods.
Local food. Love of all foreigners. Balinese cuisine offers a wide variety of original dishes, recipes that immerse guests in a gastronomic enjoyment. For vegetarians - a juicy fruit smoothie - bowl or Gado-Gado, for fish lovers - the famous morning catch in Jimbaran, and for meat lovers - from baked duck to turtle soup.
Would you like to visit Bali?
Olga (Russia)
Yes, I just planning with my boyfriend to fly there for our vacation.
Dmitrus (England)
Yes, It is could be nice travel to Bali.
Denis (Greece)
I was supposed to fly to my friends there, but due to work, the trip was postponed.
Miko (Georgia)
I want organize vacation there for my sister. She dreamed about Bali.
Jessica (Netherland)
Of course, I think it is a Paradise.
What is your dream villa?
Olga (Russia)
I would like to try Junggles, but I am not sure, I can live near snakes.
Dmitrus (England)
I prefer to live with ocean view.
Vladislava (Canada)
Ocean view 100%
Denis (Greece)
Bubble hotel, I think it is really something new.
Miko (Georgia)
Big swimming pool could be fine.
Monica, Lithuania
Jacuzzi with system «smart home» is interesting.
Jessica (Netherland)
With a huge swimming pool.
Do you think the idea of flying to Bali is crazy?
Olga (Russia)
No, why? A lot of my friends already have been there. Now, I am work on it.
Dmitrus (England)
No, because my happy future can be there. There is a lot of nice and smart people, I think.
Vladislava (Canada)
Yes, a little crazy idea. Because it is so far from my home.
Denis (Greece)
Not so crazy, but the way takes a lot time.
Miko (Georgia)
Little bit not original idea, very exotic place.
Jessica (Netherland)
Yes, because my husband afraid of planes.
Zoltan (Hungary)
For me it is not crazy idea.